Parameters
| | |
| --- | --- |
| Model | S91-20 |
| Measuring Range | 0.03~20m |
| Measuring Accuracy | ±1mm |
| Laser Grade | Class 2 |
| Laser Type | 620~690nm,<1mW |
| Working Voltage | 6~32V |
| Measuring Time | 0.4~4s |
| Frequency | 3Hz |
| Size | 63*30*12mm |
| Weight | 20.5g |
| Communication Mode | Serial Communication, UART |
| Interface | RS485(TTL/USB/RS232/ Bluetooth can be customized) |
| Working Temperature | 0~40℃(Wide temperature -10 ℃ ~ 50 ℃ can be customized) |
| Storage Temperature | -25℃-~60℃ |
Note:
1. Under bad measure condition, like environment with strong light or the diffuse reflectance of measuring point over-high or low, the accuracy would have bigger amount of error: ±1 mm± 50PPM.
2. Under strong light or bad diffuse reflectance of target, please use a reflection board
3. Operating temperature -10 ℃~50 ℃ can be customized
Testing Software
How to Testing the laser ranging sensor?
We can provide supporting test software to facilitate users to detect whether the laser distance sensor is working normally.
Please contact us for download the serial port test software.
After the cables and USB or other communication converter are correctly connected, please follow the below steps:
1, Open the test software;
2, Select the correct port;
3, set the correct baud rate;
4, Open the port;
5, Click measure when the single measurement is required;
6,Click "ConMeaure" when Continuous measurement is needed, excite "StopMeasure" to exit continuous measure.
The real time distance record that has been parsed can be seen in the date record box on right.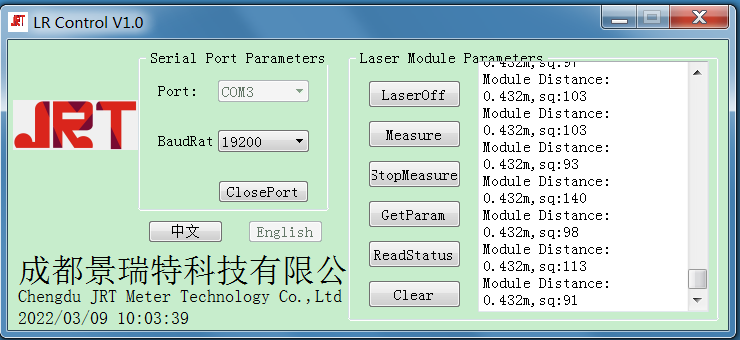 Application
Laser ranging sensor is a high-precision ranging sensor developed by Seakada.It has been widely used in home improvement measurement, industrial control, Robot and other fields.
FAQ
1. Does the laser measurement sensor support wireless connection?
Seakada ranging sensor itself has no wireless function, so if the customer needs to use the PC to read the sensor measurement data wirelessly, an external development board and its wireless communication module are required.
2. Can the laser ranging sensor be used with Arduino or Raspberry Pi?
Yes. Seakada laser distance sensor uses serial communication protocol, as long as it is a control board that supports serial communication, it can be used for communication.
3. Can the industrial laser ranging sensor be connected with microcontrollers such as Arduino and Raspberry pi?
Seakada laser measuring sensor can interface with microcontrollers like Arduino and Raspberry pi.